In paid partnership with : The Scout Guide Cincinnati
By : Ciarra Williams
TIPS ON MAINTAINING HEALTHY SKIN DURING THE HOLIDAYS
November was National Healthy skin month, but we love these tips moving into December, too. The cold weather combined with food, drink and late nights that come with the holiday season can wreak havoc on your skin. It's time to give your skin a glow up so it can sparkle like those holiday lights all winter long.
We tapped into some of Cincinnati's best skincare experts to share any advice they could give during the holidays. Here are some of the things they suggested.
Extra Maintenance for Healthy Holiday Skin
Aren't we all a little extra this holiday season? Turns out, our skincare should follow suit.
Dr. Mona Foad from Mona Dermatology reminds us all that cooler weather means it's dry skin season, soo be sure to stay on top of moisturizing head-to-toe. If you're shopping for a new product for winter skincare, remember that cream will be more moisturizing than a lotion, and look for ingredients like ceramides. For added hydration, add a hyaluronic acid such as HA5 to plump your skin from the inside out. This time of year, you may need to switch to a more gentle cleanser for the face and body as well.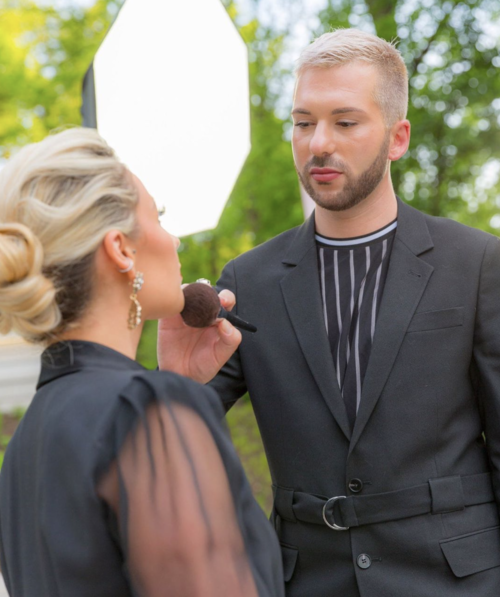 Our resident stylist and makeup artist Gregorie Styles tell us it's time to think about hydration when looking at our skincare routine. " Drink lots of water, and stock up on great makeup/sunscreen removers, non-drying chemical exfoliators, and consider nighttime recovery masks," he says.
Although it's tempting to try new products to achieve a holiday glow, Lisa McMilla from Livio Med Spa, would not recommend changing your routine drastically. You don't want your skin to react poorly to new products just before a big event.
"Don't let the over-the-counter marketing campaigns waste your money," she says.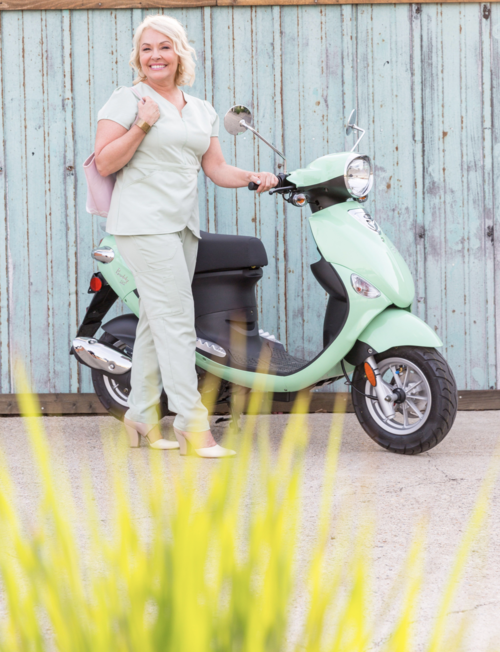 There's lots you can do to make sure your skin keeps its glow over the holiday seasons, but don't forget that there are professionals ready to help with an extra special touch. Make an appointment for an in-office skin care treatment to keep your skin looking holiday ready.
Erin and Shannon from Augusta Aesthetics chime in with a reminder that a professional facial will not only leave you with your skin looking refreshed, you'll feel more relaxed, too.
Quick Routines for Busy Schedules
After a big day of shopping and holiday festivities, sometimes the last thing we feel like doing is going through a long, involved skincare routine. Our experts weigh in with their best quick routines for the busiest of schedules.
Erin and Shannon from Augusta Aesthetics remind us to stick to the basics: washing your face, moisturizing, and wearing sunscreen and give us their suggested morning and evening routines
Our group of experts have shared with us some of their favorite AM and PM routine products to make this easy for you!
AM Routine: Vitamin C, Moisturize, Sunscreen
Some favorite products for your morning routine are SkinBetter Alto Defense, Skin Medica Lumivive, ZO Daily Power Defense, SkinMedica Replenish Hydrating Cream, and Sunscreens
PM Routine: Cleanse, Retinol, Moisturize
Some favorites for the before bed routine include Zo Gentle Cleanser, SkinBetter AlphaRet, SkinMedica HA5, SkinBetter Trio.
If you're over 40, add Growth Factor to both your morning and evening routines, like SkinMedica TNS Advanced Plus and ZO Growth Factor Serum.
Even if you're hoping for the quickest of routines, sunscreen is always a must. But, the Augusta team cautions, once size does not fit all.
Lisa from Livio Med Spa agrees and says says, "I feel like sunscreens are like shoes. No single sunscreen is perfect for every occasion."

Lisa's favorites include:
Skinbetter Tone Smart SPF 75
Skinbetter TONE SMART SPF 68 Sunscreen Compact
ZO Sunscreen plus primer
SkinMedica Essential Defense
Gregorie Styles recommends products that can perform a double duty. "I like to use oil-based makeup removers that double up as cleansers as well. These formulas help avoid stripping skin, which can leave it dehydrated and tired-looking," he says.
Holiday Treats & Glowing Skin Don't Always Mix
Most of us agree that one of the best parts of the holiday season is all of the great food and drinks. Who doesn't end up indulging in sweets and richer foods than we typically do?
As good as they taste, these foods are not good for overall skin health since foods high in processed or refined sugars or other carbohydrates and unhealthy fats can actually promote skin aging.
On the other hand, foods rich in antioxidants are good for your skin health and have protective effects on the skin. These include yellow and orange fruits and vegetables (think carrots, apricots, oranges), tomatoes, spinach, green leafy vegetables, berries, salmon, and nuts. So indulge a little but try to make sure you balance with some healthier options of fruits and vegetables.
Go for a glass of bubbly, but don't forget to hydrate with water. Dr. Mona reminds us to drink lots of water this holiday season to counteract the effects of alcohol, as well as foods high in sodium.
Holiday Fun Can Irritate Skin
A big smile on your face might be a big indicator of holiday fun, but some of that fun–like alcohol, an indulgent diet, and a lack of sleep–might be showing up on your face as well.
Diets filled with holiday treats can cause a lot of inflammation and redness in the skin. Also, the body will take excess water to support the organs, making it harder for the skin to regenerate.
This isn't to say not to have fun, but keep your skin in mind as you soak in the joy of the season.

"I like to balance everything out with heavier nighttime treatments to give the skin a little TLC," says Gregorie Styles.
It's not just redness, either. Diets filled with salty, fatty foods can create puffiness around your eyes and cheeks. It can also exacerbate any tendency towards acne or breakouts and can create a dull-looking complexion as well.
Vision of sugar plums may give you sweet dreams, but too much sugar can lead to glycation–sugar binding to proteins and lipids in the body–which inhibits the function of collagen and elastin. Lisa McMillan from Livio Med Spa warns that a sweet tooth can keep your skin from looking firm and tight.
Your growing to do list may have you burning the midnight oil, but poor sleep has been linked to increased signs of aging with more wrinkles, fine lines, and darker under-eye circles. In addition, drinking coffee and soda for a little afternoon jolt can affect sleep because of caffeine intake.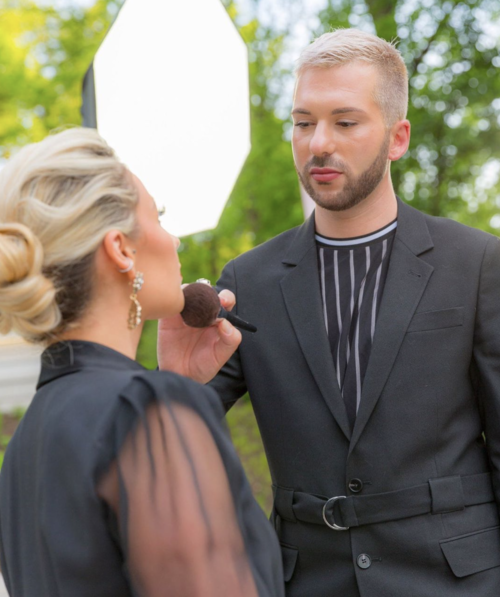 Dr. Mona recommends avoiding foods with a high glycemic index and sugars since these can promote acne breakouts and aging by forming AGE's (Advanced Glycation End Products) in the skin.
Must-Have Products & Routines for Healthy Skin
Looking for some skincare products to tuck into your stocking? Our experts give some of their favorites:
Kate Somerville Daily Exfolikate cleanser: with lactic acid to knock out redness and glycolic to remove dry skin.
First Aid Beauty Oatmeal Toner: this helps hydrate and rebalance dehydrated skin
Skin Fix Peptide Cream: with a higher percentage of oatmeal to nourish skin while sleeping and peptides, which act like Spanx to tighten fatigue lines.
Erin Glutz, Augusta Aesthetics
Trio Rebalancing Moisture Treatment: Provides a balance in moisture and hydration through the harsh winter climate.
Alto Defense Serum: Composed of 17 different antioxidants, Alto protects your skin from everything environmental that ages your skin. The perfect protection all year long.
SkinBetter TONE SMART SPF 68 Sunscreen Compact : We can't forget SPF, even in the winter. The Tone Smart SPF compact adapts to every skin tone and continues to be our best seller as we move into the winter months.
Dr. Mona Foad, Mona Dermatology
Start with a cleanser that matches your skin type: dry, sensitive, combination, or oily
Look for serums that can benefit your skin on a cellular level to fight both extrinsic aging as well as intrinsic aging.
SkinMedica's TNS Advanced Plus Serum, which combines the latest in growth factor technology to reverse the signs of aging and a blend of antioxidants that work to fight the hallmarks of aging.
A Retinoid: When choosing a retinoid, look at your skin type. If your skin is sensitive, you may need to start with retinol which will work more slowly than a prescription Retinoic Acid, but will not dry out your skin. If your skin is hardy, try a retinoic acid such as tretinoin or adapalene for faster results. Finally, use a Hyaluronic acid product to help replenish the loss of hyaluronic acid that occurs as we get older.
Colorescience Face shield and SkinMedica's Total Defense and Repair: Top your skincare with a broad-spectrum sunscreen that will protect your skin from UVA and UVB rays. I always look for sunscreens with zinc oxide. Newer formulations also have ingredients that protect your skin, Infrared, and other environmental factors.
'Tis the season to eat, drink, and be merry. We love all the fun that the holiday season has to offer, but no need to let your skin suffer.
For more tailored recommendations and to keep your skin looking your best, consider making an appointment with one of our esthetics experts from Mona Dermatology, Augusta Aesthetics, or Livio Med Spa.
They'll help you get that holiday glow and keep it all year round. When people ask where you got your holiday glow, be sure to tell them The Scout Guide told you how. 
For more information go to https://www.cincinnati.thescoutguide.com/